---
Culture / Auctions
Gianni Versace Designed Tiara Goes For Auction
On March 23rd, online jewelry retailer Bidz.com will auction off a gold and diamond tiara designed by the late Gianni Versace to benefit the Aid for AIDS charity, with an opening bid of $699,000 US Dollars. The one-of-a-kind tiara, which contains over 1,200 diamonds and is worth an estimated $3 million, has been worn by […]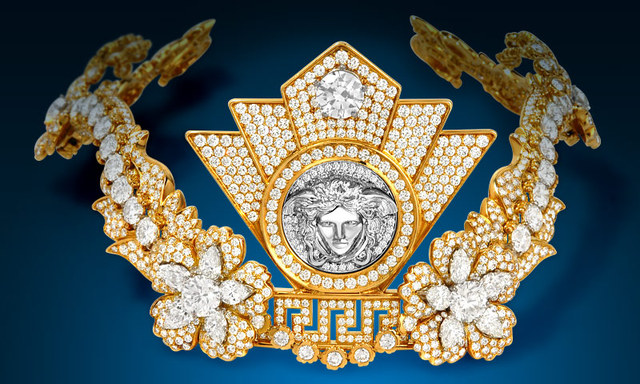 On March 23rd, online jewelry retailer Bidz.com will auction off a gold and diamond tiara designed by the late Gianni Versace to benefit the Aid for AIDS charity, with an opening bid of $699,000 US Dollars.
The one-of-a-kind tiara, which contains over 1,200 diamonds and is worth an estimated $3 million, has been worn by celebrities including Madonna, Amber Valletta and Donatella Versace.
The Versace Tiara, also known as the Tiara, won the prestigious De Beers Diamonds International Award in 1995.


The coveted gem transcends the jewelry industry and crosses over in to art community with its intricate detail and quality craftsmanship.
The Tiara is a part of fabled Atelier Collection launched by Gianni Versace and Frank Muller in 1994.
Auction pre-qualification information, investor details and Tiara diamond certificates can be found at versacetiara.com or visit the Bidz website for more information. Photos: Luxist
---