---
Culture / Auctions
Charles Dickens's Works To Fetch $2 million
Rare collection of work by Charles Dickens will reach the Christie's auction block in New York on 2 April and is expected to fetch $2 million. This includes an alliance copy of "Oliver Twist," which is emblazoned by Dickens to a fellow author and is anticipated to generate $200,000-$300,000. Eyebrows are raised for high price […]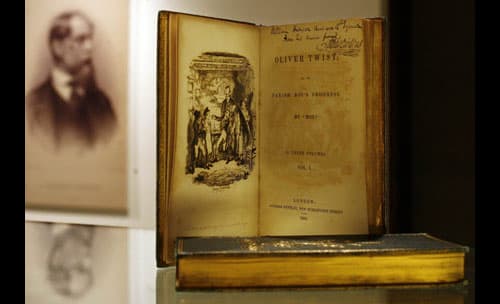 Rare collection of work by Charles Dickens will reach the Christie's auction block in New York on 2 April and is expected to fetch $2 million.
This includes an alliance copy of "Oliver Twist," which is emblazoned by Dickens to a fellow author and is anticipated to generate $200,000-$300,000.
Eyebrows are raised for high price tag attached to the books and manuscripts. And the very reason that it is not only the first edition of Oliver Twist, one of the great novels of English literature but also it was adorned by Dickens to William Harrison Ainsworth, a novelist colleague.

Ainsworth did his amount of contribution to enable Dickens reach to this level.
He introduced Dickens to his first publisher and used to give him timely pills of inspiration for the novel, which is the first one to feature a child as the protagonist.
Also, an inscribed copy of "The Uncommercial Traveller" is an addition to the lot that is inviting eyeballs.
This edition was given to author George Eliot and now everyone at Christies is hopeful that it would fetch $100,000-$150,000. Via pricy spicy
---