---
Cars / Yachts
Sailing Catamarans 2020: Yacht Style Special Part 1
Lagoon has led the growth of sailing catamarans in Asia, while Sunreef continues to expand its range and introduces an Eco line.
Asia's love affair with sailing catamarans is arguably best illustrated by the annual Lagoon Escapades held in Thailand and the Philippines, where the events showcase Southeast Asia's stunning scenery and give a window into the special camaraderie among owners.
Simpson Marine, Asia's biggest yacht dealer, manages the Lagoon Escapade in Thailand, where it represents the French brand as well as in Indonesia, Malaysia, Singapore, Hong Kong, Taiwan and parts of mainland China.
The dealership has sold about 400 Lagoon catamarans into Asia – the majority of them sailing cats – since the mid-1980s, confirming the huge appeal in this region of the world's biggest producer of cruising catamarans. In China, the brand is so popular that the word for 'Lagoon' is sometimes used to mean catamaran.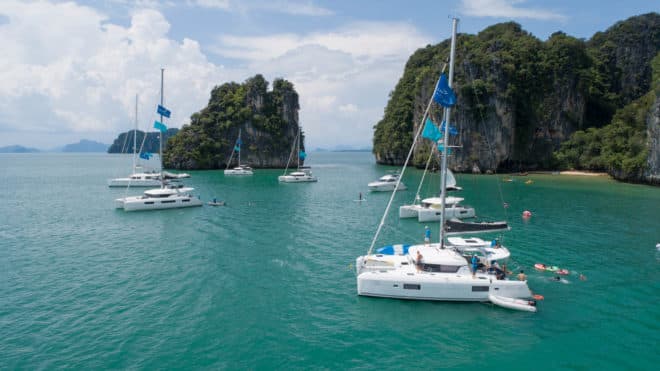 Lagoon sailing cats have also become the core of the Simpson Yacht Charter fleet, with models including 400, 40 (two), 42 (two), 450, 52, 560, 620 (two) and a flagship Seventy 7, Joy, which was sold by Simpson Marine to a Singapore-based client and is currently based in French Polynesia. Two other units of the Seventy 7 have been sold to clients in Asia by other dealers.
Thomas Gailly, Lagoon's Commercial Director, says: "We're happy with Lagoon's market share globally, including Asia. Lagoon is the leader in catamarans and we feel it in every part of the world. With more than 5,000 Lagoon catamarans sailing all over the different seas, the brand is clearly recognised as a reference."
Last year, Gailly attended the second Lagoon Escapade Philippines organised by local dealer Europa Yachts. The first-ever Seventy 7, Abby Grace – used for the model's world premiere at Cannes in 2016 – was among 11 catamarans and over 100 guests that sailed from Punta Fuego Yacht Club to Puerto Galera.
"With more than 30 Lagoons from 40-77ft in the Philippines, Lagoon is the country's dominant catamaran brand. Europa Yachts took the initiative to gather its clients for Lagoon Escapades and year after year, the owners became friends and it really became a nice community of happy sailors," Gailly says.
"This type of event has now become particularly big in Thailand with Simpson Marine and Australia with The Multihull Group. Lagoon Escapades take place all over the world and are really dedicated to Lagoon owners, showing the spirit of the brand. We keep on pushing these events with our dealers, which means that there are still plenty more to come."
Lagoon certainly provides customers plenty of choice and currently offers a dozen models from 40-77ft including the brand-new Sixty 5.
The Lagoon 46, which debuted at Boot Dusseldorf last year, and the 40 and 50, both unveiled at Cannes in 2017, are among other new models from a catamaran builder determined to stay in pole position despite growing competition.
"The catamaran market is still growing fast and we've seen more and more competitors coming to the market in recent years. It's a good thing, with new products addressing niche markets and great innovation from everyone. At the end of the day, it all benefits the catamaran market," Gailly says.
"Lagoon, however, benefits from a virtuous circle around its reputation. The Lagoon brand keeps on attracting the best distributors, so together with our very strong facilities and organisation in France, it creates an unbeatable level of customer service, a key factor in our development. This is true from more mature yachting markets like Hong Kong to developing markets like Vietnam.
"So, as we keep investing in innovation and the quality of our products, as we've done for 35 years, Lagoon should secure its market share for many more years."
SUNREEF LOOKS AHEAD TO ECO ERA
Sunreef is among competitors at the larger end of the market and in April it announced the completion of the Chinese-owned Double Happiness, the eighth hull of the Sunreef 80 that debuted at Cannes in 2018 and has secured over a dozen sales. Southeast Asia has also welcomed sailing cats from the Polish yard in recent years.
The Supreme 68 Eagle Wings has established itself as one of the region's most popular charter yachts since its world premiere at the Singapore Yacht Show in 2016, with the following year's event hosting the handover of the 62 Annette 2 to Anthony Lim, then Commodore of the Changi Sailing Club.
Currently transferring to new premises in the north-coast city, the Gdansk builder is preparing to launch its new 70 this year to complete a new-look sailing range headed by the 80 and including the 60 and 50, models that debuted at Cannes in 2018 and 2019 respectively.
Sunreef has gained global headlines over the past year for new large powercats including 100, 110 and 49M (161ft) builds, but Sunreef President Francis Lapp believes the business will continue to be dominated by sailing models, which he expects to make up 70 per cent of production even after two more Power models are launched in the coming year.
"I think sail catamarans will always be our biggest share because so many of our customers want the lowest fuel consumption," says the Frenchman, who founded Sunreef in 2002.
Over the past year, Sunreef has introduced eco-electric versions of its 50 and 60 sailing models, showing the latter at Cannes last September, and in April it announced an all-new Eco range of catamarans, which will start with 70ft and 80ft models in both sailing and motor yacht versions.
The Eco sailing cats will feature specially developed solar panels on the hulls, flybridge and even mast.
"I've always been a proponent of green technology. When I entered the yachting business in 2002, I chose to specialise in catamarans and one of the reasons was because they were the eco-responsible choice at the time as they have much less drag than monohulls, so consume much less fuel," Lapp says.
"Over the years, we've met more and more customers asking about silent propulsion and air-conditioning without running the generator, lithium batteries and so on. Years went by and we evolved quite a lot and recently introduced electric propulsion, but the Eco range is about a lot more than just propulsion. It's also about the materials used in the yachts and storing solar power for all the household items so you never have to use the generator.
"We can see a lot of shipyards trying to build eco-responsible, but we always think a step ahead. We've always been ambitious. We have a young team with great ideas and we're implementing those with the Eco range. This is the future."
www.cata-lagoon.com / www.simpsonmarine.com
https://www.luxuo.com/motoring/yachting/yacht-style-issue-53-multihulls-issue.html
---