---
Cars / Yachts
LUXUO Travels: Cruising Along on a 48m Croatian Superyacht, Freedom (Part 2)
In the conclusion of a two-part article, explore Croatia on the 48m Freedom operated by Goolets, which offers the 11-cabin superyacht packed with toys from €100,000 per week.
The sun deck is Freedom's winning card, an adult's playground with world-beating views. The raised jacuzzi at the aft end is a firm favourite, especially since being surrounded by sunpads following the refit.
Otherwise, the deck is dominated by a remarkably long U-shaped arrangement of sofas, with space for up to 20 people to sit within reach of one of four coffee tables along the centre line. To port is the staircase from the upper deck, two sun loungers and a hanging chair, while to starboard is another hanging chair and six sun loungers.
All the seats and sun loungers have a forward view of a well-stocked bar, which can become a social hub before dinner and even livelier afterwards when the two huge speakers come into play.
There's more fun up ahead. The air-conditioned gym offers sea views forward and to both sides, and a good range of equipment including a treadmill, exercise bike and rowing machine, as well as free weights and more.
In front of the gym is the pool, which is about 5m wide and has a forward-facing bench seat inside and a feature 'tap' to port. Even with 20 or so guests on this deck alone, there's enough space and activities for people to have as much or as little company as they want.
Furthermore, the layout is flexible enough to have a 'zen' theme as a health and wellbeing area for yoga, fitness and smoothies, or as a lively entertainment venue for sunbathing, swimming, music and cocktails. In fact, Freedom even has a fifth level, with a large roof deck above accessible by ladder and used to carry the two tenders (4.8m and 6m) and two jetskis, which can be deployed by a crane.
That's not all. The full menu of water toys includes an electric foil board, motorised surfboard, Seabob, several paddleboards, kayak, wakeboard, waterskis, inflatables and huge waterslide. And thanks to the amazing crew, you'll find many of these in the water before you even dive off the back of Freedom after anchoring.
Island Attractions
Goolets' wide range of seven-day itineraries for Freedom or their other CA yachts include starting and finishing in Split, and a one-way route from Split to Dubrovnik. This year it even has two-week and three-week charter bookings for groups wanting more of Freedom and Croatia.
A typical week-long round trip can include the islands of Brac, Vis, Hvar, Korcula and Pelješac, then stop at different parts of Hvar and Brac on the way back to Split or even nearby Trogir, just a half-hour drive away.
A Split-Dubrovnik route could also take in Brac, Hvar and Korcula before continuing to the likes of Mljet and Lopud on the way to Dubrovnik, about 112nm southeast of Split.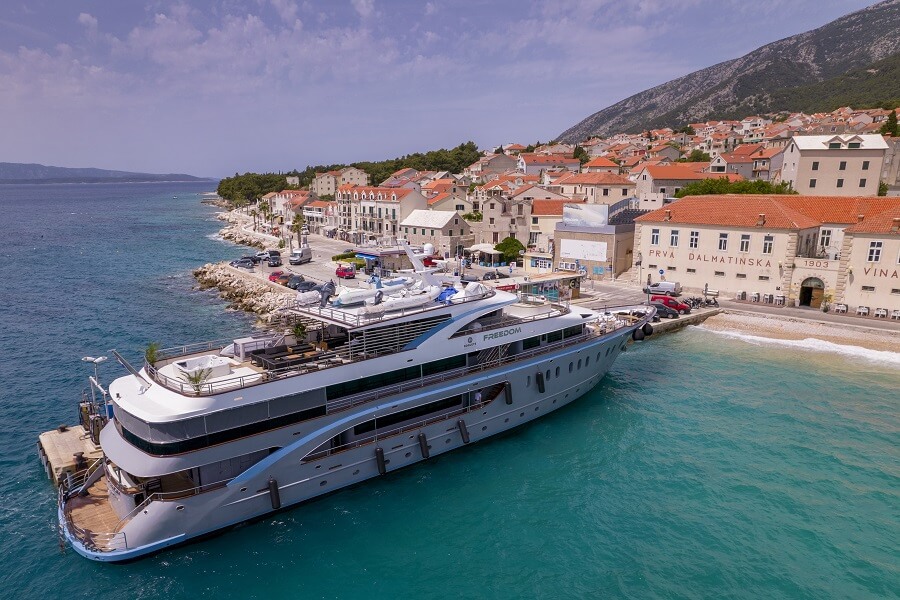 Brac is typically a first stop as it's just 10nm south of Split and well worth a visit for Zlatni Rat, billed as Croatia's most famous beach and otherwise known as the Golden Horn or Golden Cape.
Dock in the southern harbour town of Bol and it's a 15-minute walk along a tree-covered promenade beside some exclusive homes to this iconic beach, a stunning spit of land that offers clear water on both sides and plenty of space for sunbathing, bars and restaurants. Other spots in Brac include the pretty fishing village of Milna in a protected harbour on the west coast.
Hvar is just south of Brac and its attractions include the quaint town of Jelsa on the north, but the island is most famous for the port town of Hvar on the west.
One of the most popular destinations for day trips from Split and busy during the summer, Hvar has an historic 'old town' and many visitors enjoy a walk up to the 16th-century Spanish Fortress for great views of the city.
It also has a beautiful waterfront packed with shops, restaurants and bars, while there are beach clubs and swimming spots within walking distance. Just off Hvar town are the Pakleni Islands, a chain of wooded islands where you can enjoy wonderful beaches or anchor in the bays to enjoy watersports in clear, protected waters.
Vis is the small island southwest of Hvar where they shot the 2018 hit Mamma Mia: Here We Go Again, with Goolets staff saying Pierce Brosnan enjoyed it so much that he never wanted to leave. Nearby attractions include the Blue Cave to the west and Green Cave to the south.
Yachts typically berth at the town of Vis in a beautiful, protected bay in the northeast, and there's an air of 'time stands still' in this postcard-perfect coastal town. On our penultimate day, we anchored just off Vis town for a fantastic few hours of swimming and trying to use every water toy on board Freedom.
Yachts can also visit the western port town of Komiza, where the Jastoreza restaurant doubled as the 'Greek Taverna' in the Mamma Mia sequel.
Korcula is the island south of Hvar and home to Korcula, a stunning historic fortified town described by Goolets as 'one of the most breathtakingly beautiful towns imaginable'. Known as the birthplace of Marco Polo, it has themed shops and a museum in his honour, and offers another mesmerising on-land experience.
Goolets, the Super Host
These are just four of the Dalmatian islands and the options are almost endless. Goolets' existing routes are all proven winners, but the company can tailor an itinerary for each charter, which also includes booking all restaurants and on-land activities, sometimes months in advance.
"In the last couple of years, Goolets has made an extra effort to integrate itself into the local communities and become close with all the service providers on all the islands and cities we visit," says Ivan Ramljak, Goolets' Country Manager for Croatia.
"We know the owners of the restaurants and the wineries, even the fishermen, so we go the extra mile to create a special occasion for the client.
"Sometimes a special meal for 35 people can be a two-month process to prepare the food, the tables and set-up, the music. We must consider the weather to know if it should be indoors or outdoors, or if it's right season for the seafood. The clients appreciate this care and so do the restaurants."
For each trip aboard Freedom, Goolets offers guests a private 'concierge assistant' who prepares daily suggestions on how to maximise the charter experience based around the structure of each group, whether it be families with young children, teenagers, active seniors, couples only, or mixed groups of all ages, which you're likely to have in a group of 20 or so.
It's an exciting time for Goolets, whose name is a 'Google'-inspired twist on gulets, the classic wooden Turkish sailing craft, an equivalent of Indonesia's phinisis.
The company started 17 years ago by focusing on gulets and chartering them in Turkey and later in Italy, Greece and Croatia, which has now become its leading market.
Goolets still operates many gulets, but has expanded and diversified to include many modern motor yachts in its CA fleet, which now numbers about 20 and ranges in size up to the 52m, 18 cabin Alfa Mario. Business is good overall and this year's bookings on Goolets yachts in the Med even include a five-week multi-country trip and a nine-week journey through the Greek islands.
However, following its refit, Freedom is the company's leading light and was quickly booked out for the season, which in Croatia usually runs from April through to October.
Her facilities, cuisine, crew and water toys make Freedom a match for most sub-50m yachts on the charter circuit. And from 2023, she'll be available to charter from €100,000 per week, so you don't need the bank account of a rock star, NBA legend or Microsoft founder to afford her.
This article first appeared on Yacht Style.
For more yacht reads, click here.
---