---
Business / Billionaires
Thai king world's wealthiest royal
No. 1 on Forbes' list, for the second year in a row, is Thailand's King Bhumibol Adulyadej. He is worth $30 billion, $5 billion less than last year, as a result of double-digit declines in real estate and stocks owned via the Crown Property Bureau, the state investment vehicle of which he is a trustee. […]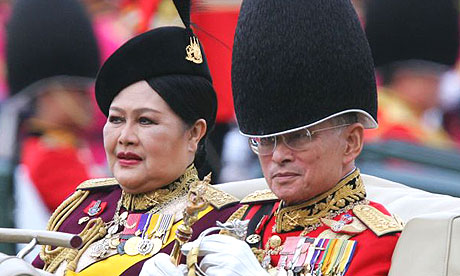 No. 1 on Forbes' list, for the second year in a row, is Thailand's King Bhumibol Adulyadej.
He is worth $30 billion, $5 billion less than last year, as a result of double-digit declines in real estate and stocks owned via the Crown Property Bureau, the state investment vehicle of which he is a trustee.
Rising political tensions have also destabilized the country, dampening even the important tourism sector.


Though royals largely inherit their riches along with their titles, these monied monarchs are not immune to the global downturn, and they've suffered the effects of the global depression along with their subjects.
The credit crunch, real estate collapse and stock market declines have wreaked havoc on many of these historic fortunes.
Collectively, the richest royals lost $22 billion over the past year, down 17% to $109 billion. Twelve of the 15 are poorer than a year ago; two are worth the same.
Only one ruler bucked the trend: Morocco's King Mohammed VI, whose near monopoly on current hot commodity phosphate enabled him to make money in a down year (see: "King Of Rock").
He is now $1 billion richer, allowing him to move up a notch to No. 7 with a net worth of $2.5 billion.
Read the full story @ Forbes.com
---