---
Business
Li Si Wei of G.H.Y Culture & Media: Singapore and China's Undeniable Bond
With an extensive experience across multiple hit TV series in China, Li Si Wei wants to expand into Singapore and SEA.
Mr Li Si Wei has worked for China's tech giant Sohu and China's number one video streaming platform iQIYI, and is now with the Singapore-listed G.H.Y Culture & Media.
He has over 15 years of successful experience in digital entertainment in the areas of Internet TV, variety shows, and short-format videos that have emerged globally in recent years. He led the global marketing and promotion of the hit TV series "Story of Yanxi Palace" and the variety show "Youth with You", which have been broadcast throughout Asia.
Mr Li has extensive experience in international brand marketing and team management, with particular insight into the history, culture, entertainment environment and customs of Southeast Asia, and has maintained close partnerships with many media, film and television organisations and brands in Southeast Asia.
As a senior marketing expert in the China market, Mr Li has been invited to be a speaker at several China and international marketing summits and to be a judge at advertising festivals.
How did you first get interested in bridging the different markets of Singapore, Southeast Asia and China?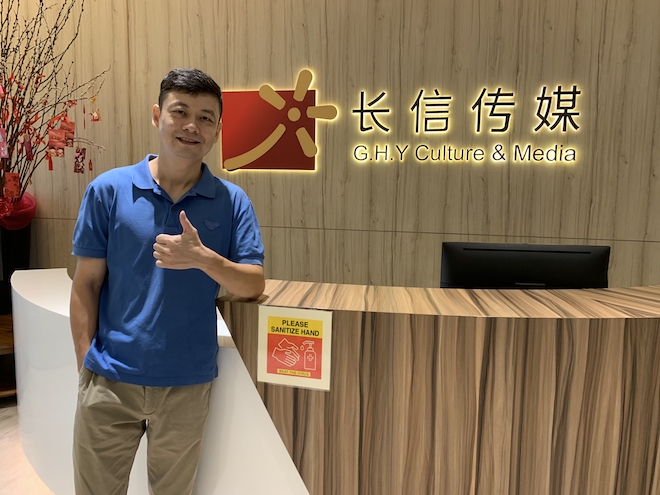 Historically, China has opened a shipping route connecting Southeast Asia as early as the second century BCE. Since then, cultural and trade exchanges between China and Southeast Asia have never been interrupted.
Personally speaking, my earliest impression of Singapore originated from a series of Singaporean TV episodes that were popular in China in the 80s, such as "The Great Conspiracy" and "The Story of the Great Heroes" starring Fann Wong and Christopher Lee, the images of which are still vivid in my mind.
Recently, due to the great success of the TV series "The Little Nyonya" in Singapore and Malaysia, and aired in China, a range of Southeast Asian-themed TV series and variety shows followed, which continued to reap high praise and reputation from local viewers in China.
I saw a huge room for growth in the whole Southeast Asian film and culture arena, which prompted me to join G.H.Y Culture & Media, as the company shares the same vision. G.H.Y's commitment to developing closer ties with Southeast Asia is apparent from their setting up of a few Southeast Asian offices — one in Singapore as the headquarters to manage the region, and others in Malaysia, Thailand and Indonesia.
Using film and cultural works as a bridge between China and Southeast Asia, G.H.Y and I intend to deepen mutual understanding and communication; to seize opportunities and contribute to building the prosperity of the Asia-Pacific region together.
Was there a particular mutual benefit for the Chinese and Singaporean TV and film industries to work together? If so, what would that be?
I think the greatest common value of the industry, both in China, Singapore and Southeast Asia as a whole, is to provide our audiences with valuable films and TV productions that they will enjoy watching daily.
Through creating films and TV content made by Asia for Asia, we can enhance mutual understanding and communication among people of different nationalities and cultures, and at the same time, promote the development of the whole industry. From films and TV content, spinoffs are inevitable — such as offline film and TV bases, offline IP live games, IP derivatives development, and the training of acting talents.
G.H.Y has just announced that they are launching more Singapore-China collaborations for the creation of original entertainment content (IP projects) for 2022 and beyond. What makes an IP project different from a normal one that would help cross-cultural relations between media markets?
Yes, the previous co-production and launch of "The Little Nyonya" by our Chinese and Singapore teams was a big success in China and overseas markets, which gave us a lot of confidence.
As we all know, the core of creating film and TV works comes from the subject matter — good content will attract good actors to participate and thus attract more viewers that eventually will end up as a well-received piece of work that is considered "good".
The success of "The Little Nyonya" has shown us the great potential of the Nanyang (Southeast Asia) theme in China and regional markets.
For the "Nanyang" IP portfolio for G.H.Y, the company has completed the preparation and filming of "Sisterhood", "Nanyang Heroes" among others, coming to audiences soon.
The difference between IP and ordinary projects is that good IP can be continued and more entertainment derivatives can be developed under the same IP to meet the audience's more diversified entertainment needs.
For example, for our other IP work "Horror Stories of the Tang Dynasty", in order to allow the audience to enjoy the wonderful episodes online while experiencing the charm of the IP in an immersive way, we have invested in the offline "Horror Stories of the Tang Dynasty" live game which will be introduced to Chinese audiences soon.
The whole IP entertainment experience, which combines online productions with offline live experiences, will also be available to Singaporean audiences soon.
So far, is the Singaporean media market more similar or different from the Chinese?
I think, for now, the Chinese media market will be richer and more competitive.
For example, for our familiar long-form video platforms, China has many platforms such as iQIYI, Tencent, Youku and Mango TV, and each platform has its own exclusive IP content. This healthy competition not only satisfies the different tastes of viewers but also promotes further industry development.
In the field of short-form videos, which has emerged in recent years, China already has Douyin and Kuaishou, which are used by many users in mainland China, and both have launched international versions to meet the requirements of international users.
Seeing the success of TikTok worldwide, what is something that you have learned from working with the Chinese market that you think can be applied to Singapore or the rest of the world?
The success of TikTok has indeed taught us a lot.
From the business aspect: Perseverance in the right way, this law is a prerequisite for business success. TikTok's success in the world was preceded by several years of exploration and perseverance in the Chinese market. Success is no accident; it will be given to companies and individuals that are well prepared.
From the user aspect: TikTok's success cannot be separated from its social attributes. Whether it is a social platform in the form of graphics or a video social platform such as TikTok, we can see that, along with the continuous development of the network and mobile devices, users' social needs on the network are constantly changing. They always want to be shown or discover richer content, which is the reason why TikTok users are growing rapidly around the world.
From the science and technology aspect: Another key to TikTok's success comes from its underlying logic, which is the algorithm's recommendation. Relying on the strength of algorithms, TikTok gives users continuous and accurate recommendations of content they are interested in. This also allows advertisers to target their audiences more accurately. This has greatly improved the efficiency of communication between the content and users.
We usually say that success is hard to be copied, but we can learn from the successful experiences of others and combine it with our own situation to accomplish new breakthroughs and innovations, this is where our focus should be.
Why do you think the short-drama format would work with the Singaporean audience?
First of all, our successful experience in China makes us confident in the new entertainment content of short-form dramas. With the accelerated pace of modern life, people are in a rush in their work and social situations all day, so their personal entertainment time is fragmented.
In terms of traditional movies and TV dramas, watching them at double speed and filtering out long and slow-paced storylines has become a new mode of viewing for young people. Short video dramas of 3-5 minutes per episode also align with young people's preference for film and TV entertainment content.
This is also evidenced by the performance of the first season of "Goddess Hotel" globally launched by G.H.Y, which not only received 140 million viewers on Douyin in China, but also accumulated more than 10 million viewers on TikTok platforms in Southeast Asian countries like Singapore, Thailand and Indonesia. Of course, this new short drama model also puts forward newer and higher requirements for the creators of film and television content.
G.H.Y also collaborates with NUS to hone young talent with Pitch It! — an annual tertiary-wide marketing competition. Do you have plans to engage with a wider pool of talent for your future projects?
Yes, G.H.Y wishes to work with more Singaporean institutions of higher learning to encourage and nurture the best talents in the field of film and media. To this end, G.H.Y will provide professional mentors to share rich real-life cases, and also provide opportunities for young talents with hands-on practice through G.H.Y's film and television projects.
With GHY's collaboration with iQIYI, what do you think are qualities that young artistes need today?
The most important thing is that the artiste is not only a shining star on the screen but also a public figure, an idol, that many young people admire and imitate.
In addition to making continuous efforts to refine their personal talents, they should also be strict with themselves in terms of their personal moral character, and sort out the right role models and values for the younger generation.
It is with this goal in mind that G.H.Y, together with iQIYI, has jointly established the largest artiste agency in Southeast Asia, hoping to recruit, train, and create a new generation of Asian idols in Southeast Asia through a series of film and television productions and variety shows that are well-received in China and overseas markets.
Lastly, what kind of projects do you hope to see come out of the China-Singapore media relations in the future?
We hope to strengthen exchanges and serve as a bridge to enhance friendship and mutual understanding between the two peoples and promote regional prosperity.
For more business reads, click here.
---