---
The Lux List / Collectibles
The World's Most Expensive Hockey Stick
A Quebec City man with a love of hockey and history claims to have a hockey stick that dates back to the mid-17th century. However, historians suspect the one-metre long stick was simply crafted out of a very old piece of birch wood. Bobby Rouillard, who lives in the suburb of Boischatel, will be showing […]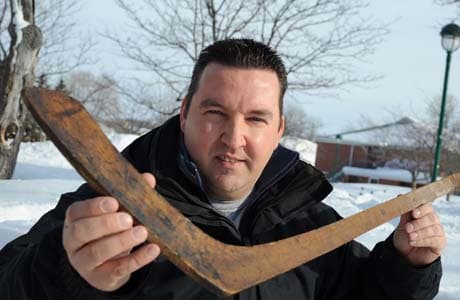 A Quebec City man with a love of hockey and history claims to have a hockey stick that dates back to the mid-17th century.
However, historians suspect the one-metre long stick was simply crafted out of a very old piece of birch wood.
Bobby Rouillard, who lives in the suburb of Boischatel, will be showing off the stick at a pond hockey tournament this weekend. Then, he says, he will put it on eBay at a starting price of $1 million.

"I know it's a lot of money," said Rouillard. "I know some collectors would like the stick. Maybe a hockey NHL player.
Last year, Rouillard bought the stick for $3,000 from an antique dealer in Nova Scotia.
He said he was attracted to the stick because of its light weight and the fact it was crafted out of a single piece of wood. Source: MSN – Photo: Canada.com
---