---
Style / Jewellery
Fawaz Gruosi, the Angolan Scandal, and the Downfall of Geneva High Jeweller de Grisogono
Though the Angolan scandal was the final nail, the lust for the high life by founder Fawaz Gruosi is yet another example why the creative geniuses behind the brand are often their own worst enemy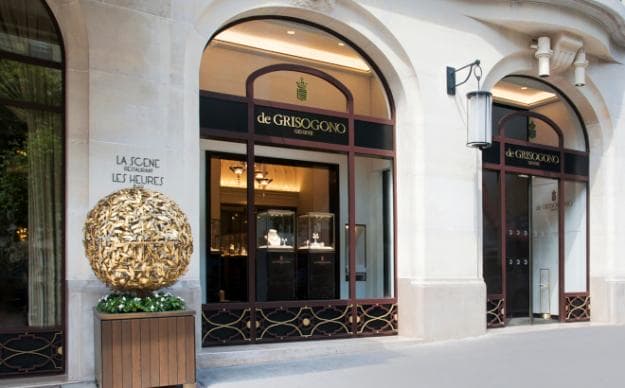 The Angolan Scandal, exposed by the famed Luanda Leaks has just bankrupted a Canne's high jewellery fixture – Fawaz Gruosi's de Grisogono. Before Fawaz Gruosi, black diamonds, while popular, never quite achieved the allure of rebellious braggadocio under the astute marketing, creativity and absolute appeal of Gruosi's sensual high jewellery creations.
A high school dropout, Gruosi left home aged 17 after getting married and found himself financially cut off by his family. Forced by circumstances to enter the jewellery trade in Florence and in the surest sign of destiny, it would be the pivotal crossroads kicked which eventually saw Fawaz Gruosi crowned as the "King of Black Diamonds".
Fawaz Gruosi, the Angolan Scandal, and the Downfall of Geneva High Jeweller de Grisogono
A blessing in disguise, Gruosi's career at the Florentine jeweller saw him appointed to the brand's London branch where he was discovered by renowned jeweller Harry Winston himself. Headhunted and groomed, Gruosi became the General Manager of Harry Winston Saudi Arabia at the ripe young age of 21.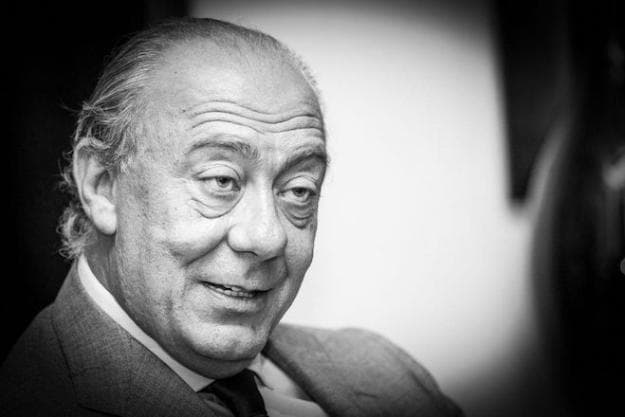 Three and a half years in and over after a lifetime of wining and dining with some of the richest clientele and oil magnates of the world, Gruosi realised that the ultra-glamorous lifestyle he was leading would soon cause him to lose touch of reality and so, he did what most mortal men in his position would be unable to do – he resigned.
That said, it was this risky career move which would prove to be the most creatively profitable endeavour – barely a month after his departure from Harry Winston, he was approached to work for Bvlgari. At the time, under the auspices of President and CEO Gianni Bulgari, the maison was among the most creatively prodigious jewellers of the era. However, internal politics between the trio of Bulgari brothers saw Gianni ousted from the company causing Gruosi to be disillusioned himself and quit in 1993. With a humble investment of $60,000, and partnering with two other associates they forged their own brand in Geneva.
"The heart of our design is where the beauty of each creation takes precedence over any pre-defined boundaries."  Fawaz Gruosi
Italian Grisogono is derived from the Latin Chrysogonus which in turn comes from the Greek Chrysogonos χρῡσό-γονος, meaning "begotten of gold" and it was Gruosi's penchant for mastering the ephemeral and breathe it into reality that shaped much of the brand's early success. A vivacious personality, with a well-known love of the finer things, an appreciation of aesthetics, and a restless spirit of adventure, Gruosi's hands-on approach of the business, also indirectly contributed to its eventual decline.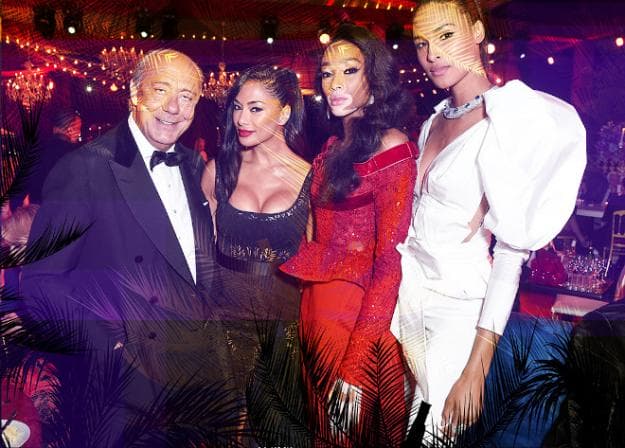 Admittedly possessed of a distinctly "anti-commercial" attitude, Gruosi would marry Chopard's Caroline Scheufele (his third wife) in 1996 and with her financial backing take sole control of the company ushering in a new period of creativity but also uncertainty for the nascent high jeweller. Under Fawaz Gruosi, de Grisogono became known for two things – black diamonds and lavish parties. Most famously, the ultra glamorous Cannes Film Festival after-party which reputedly costed CHF 3 million each time, attended by the who's who of the glitterati elite.
An unabashed ladies man, Gruosi was often seen canoodling Hollywood sex kittens like Tara Reid. Riding high on the luxury boom of the 2000s and commanding a prominent Hall 1.1 presence at Baselworld, the Geneva high jeweller seemed like it played the big leagues but a Harry Winston he was not. With an annual turnover of around CHF 100 million at its peak, the brand began to decline after the 2008 financial crisis forever altered the trend of conspicuous luxury expenditure, it was a downward progression hastened by Gruosi's love of the high life and over-the-top parties.
2012, when de Grisogono and Angolan Investors intersect
Facing cash flow issues, Angolan investors linked to Isabel dos Santos, eldest daughter of Angola's former president and Africa's richest woman, a billionaire who now faces fraud charges in Angola, bought a major stake in de Grisogono, leaving Gruosi with a minor 25% share of the business.
According to the International Consortium of Investigative Journalists,  Luanda Leaks documents reveal huge debt resulting lavish events, and that the plan was for de Grisogono to provide a natural front for an end-to-end business: precious stones mined from Angolan mines would be crafted and set in de Grisogono's ateliers and then sold through the brand's boutiques around the world.
Scheufele and Gruosi had parted ways around this time and by 2014, Chopard had sold its 49% stake, leaving de Grisogono's future very much in question. Furthermore, the initial CHF 120 million injection that went into acquiring the brand was used to cover subsequent losses and Sodiam, the trading arm of Angola's state-controlled diamond agency, had in turn had borrowed money from Ms. dos Santos' own bank to finance the takeover with Sindika Dokolo, dos Santos' husband. The terms of the acquisition were immensely favourable to Dokolo, giving him full management control, a deal which likely didn't sit well with Gruosi who had run the company for the last 25 years.
By January 2019, Gruosi stepped away from the brand he founded and from his position as board director, exiting the business entirely. Leadership of the brand fell to the newly appointed CEO, Céline Assimon, who was High Jewellery and Exceptional Pieces Director at Piaget; and prior that, Worldwide Head of High Jewellery and High Watchmaking Sales at Louis Vuitton.
In 2017, the company set a new record at Christie's Magnificent Jewels sale in Geneva when it sold the world's biggest-ever emerald cut 163.41-carat D Flawless diamond which was used in the brand's magnum opus "Creation 1" offered at Christies' auction. Designed by Fawaz Gruosi himself, it fetched CHF 33.5 million, beating the previous record for a D Flawless diamond by nearly CHF 5 million and while it captured headlines around the world, it was too little too late.
de Grisogono declared bankruptcy on Tuesday, January 28, 2020. According to Business of Fashion: Angola's prosecutor general has named Dos Santos as a suspect in an investigation into alleged mismanagement during her 18-month stint as chairwoman of state-owned oil company Sonangol. An Angolan court separately froze her local assets and those of her husband, as prosecutors alleged that they engaged in illicit transactions with state-owned companies that cost the government $1.14 billion.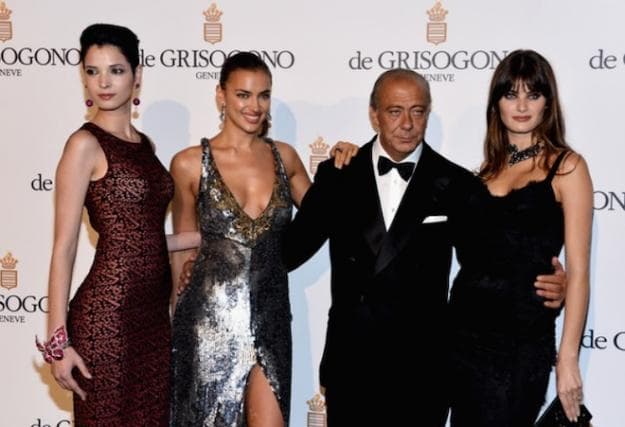 ---