---
Cars / Cars and Bikes
Test: 3 BMW M Cars Hit the Track
From the new improved M135i to the iconic M6 Grand Coupe, it's no wonder that BMW continues to be a leader in the luxury sportscar segment.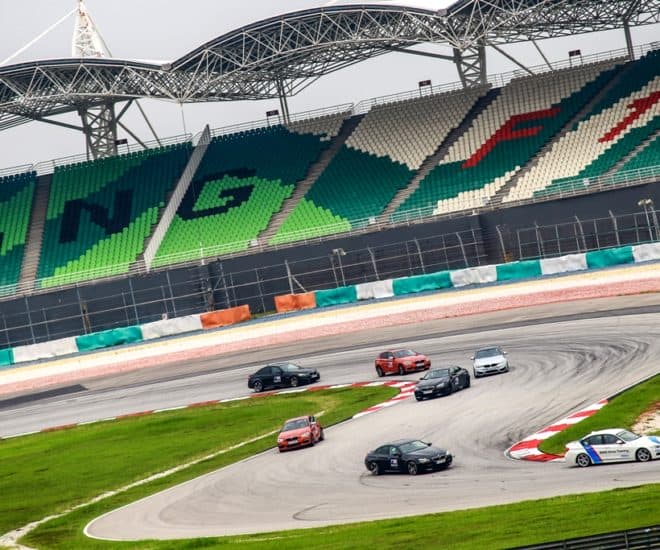 Whether it's to reignite car aficionados' interest or merely a display of its latest engineering feat, the BMW M Track event at Sepang International Circuit is one of the most highly anticipated events of the year. It goes without saying that it's a rare opportunity for anyone – regional media, enthusiasts, fans of the brand, and current owners – to witness the entire M line-up and, more importantly, realise the full potentials of these road warriors around the 5.5km track. Men's Folio Editor Lance Lim filed this story from the field, published in the Dec/Jan issue of the magazine. It is written from his point of view, from behind the steering wheel.
While it's not my first time at this event, I was still beaming with excitement – after all, we are talking about a new fleet of more powerful, improved and efficient machines here.
Just the thought of cruising these fine German thoroughbreds down the track is enough to get my heart racing and adrenaline pulsing through my veins. As we moved towards the track, a squadron of about 12 gleaming M vehicles lined neatly along the race track. From M135i to M3 sedan, M5 sedan, M6 Grand Coupe, X5M, and X6M; I couldn't be happier. There's the nifty 326-horsepower M135i with 450Nm of torque, or shall I hop into the M3 that is widely regarded as the benchmark compact sport coupé to kick off the adventure?  Neither, standing right before me is a tall and handsome BMW X6M.
BMW X6M
Very few SUVs (sports utility vehicles) can perform amicably on the track, let alone become a contender among leading sports vehicles. The BMW X6M is one of the rare few. With all the characteristics of the successful BMW X family and the same commitment to high performance that defines an M car, it is robust, agile, and refined. Aesthetically, the sport seats, gauge cluster, steering wheel, leather-covered dash, and suede-like headliner (alternatively you can opt for the full-leather interior, carbon-fibre trim, high-backed multi-contour seats) exude all the luxury trademarks of the brand.
At its heart is a 4.4-litre V8 with innovative M TwinPower Turbo technology assisted by a pair of TwinScroll turbochargers, cross-bank exhaust manifolds, Valvetronic, and High Precision direct petrol injection. It's capable of producing a maximum output of 575hp, between 6,000 and 6,500 rpm, which is four per cent more than outgoing models. The upgrades also boosted the peak torque by 70Nm. The 750Nm can be enjoyed across a broad rev range between 2,200 and 5,000 rpm, taking the X6M from 0 to 100km/h in just 4.2 seconds.
As accomplished as it is, and it even performs amicably on bends, I wouldn't quite describe the X6 M as fluid. On straight roads, the mighty beast accelerates like a raging stallion, but sitting high in the saddle, we were ever so conscious of its mass. Ultimately, it makes for a car that's impressive rather than fun.
BMW M135i
The luxury sports compact is one of the latest and rather underrated vehicles to join the ranks of the M family. The five-door BMW M123i launched in 2012, is seriously fast, furious, and loads of fun on the track. The extremely nimble hot-hatch was reintroduced to fill a niche in the market between mainstream models and BMW's halo M cars.
Anutarasoti Sethipong, corporate affairs director of BMW Group Asia, calls it a "pocket-rocket", for good reason. The free-revving six-cylinder in-line M TwinPower Turbocharged "eager-beaver" equipped with 326hp (an additional six horsepower versus its predecessor) seems too keen to unleash its might. It has a peak torque at 450Nm from 1,300 to 4,500 rpm, which allows very rapid acceleration and charges to the red-line with a vim and a voice that harks back to classic BMW straight-sixes. Whether we're blasting off on the straights or diving into sharp corners, it possess astounding grip with impressive traction and stability truly worthy of the M badge. On record, the speedster clocked in at 4.9 seconds from 0 to 100km/h with a top speed of 250km/h.
The BMW M135i occupies a standout position in the new BMW 1 Series model range, one which also underlines its position as the leading sports performer in the premium compact segment. There is no doubt that it is able to hold its own among its older and more reputable siblings, and with all that it possesses, the rear-wheel drive speedster is winning fans over, and fast.
M6 Grand Coupe
It's everything you expect from a M6 Grand coupe – powerful, responsive, and lavish. Once again, BMW has demonstrated its ability to build a vehicle that works as well as it looks. Since its debut, the four-door coupé didn't just resonate well with M enthusiasts, but also established itself as a formidable contender in its segment.
By far, this is one my top picks of the lot. With as much as 560hp and a peak torque of 680Nm to race around the track, needless to say, I took to the throttle with glee. The exceptional performance of the new BMW M6 Coupe is underpinned by a remarkable 4.4-litre turbocharged V8 engine that is aided by a high-tech power unit and innovative M TwinPower Turbo technology, which consists of TwinScroll turbochargers, cross-bank exhaust manifolds, High Precision direct petrol injection, double-VANOS, and Valvetronic. The customary M attributes, such as a powerful and sustained wave of torque even at low rpm, instantaneous responses, an enormous appetite for revs, linear power delivery, as well as a familiar M soundtrack elevated the driving experience to a whole new level for us.
For a car that possesses a remarkable amount of power and torque, and weighs almost two tonnes, the M6 Gran Coupe is brilliantly agile. The Active M differential shuffles the torque across the rear axle to the wheel with the most grip, which helps drives the power straight to the ground, providing spectacular handling and control.
BMW Concept M4 GTS
After all the excitement we had on the track, BMW is not about to let us end the day without another surprise. For the first time in this region, BMW pulled back the curtains to give us a peek at the new BMW Concept M4 GTS.
This impressive engineering feat is technologically honed in race competition, with a hike in power, and a commitment to lightweight design. "While the BMW M4 Coupe embodies the ideal combination of motor sport genes and unrestricted everyday usability, the BMW Concept M4 GTS previews an emotionally powerful and exclusive special-edition model conceived with an eye for trailblazing technology and a keen focus on the race track," explains Frank van Meel, chairman of the board of management of BMW M GmbH. "Despite its outstanding track ability, it is still fully road-legal. This is racing technology for the road in the truest sense."
At the heart of the BMW M4 GTS is the multi award-winning six-cylinder in-line turbo engine from the BMW M3/M4, with an innovative water injection technology to give the 3.0-litre unit a substantial power boost. The water injection system raises the engine's output significantly to 368kW/500hp, and increases its torque to 600Nm (442 lb-ft), yet still keeps fuel economy and CO2 emissions at the level of the BMW M4 Coupe (8.3L/100km, 194 g/km respectively). This makes it the most agile, radical, and dynamically potent model in the range.
Story Credits
By Lance Lim
---