---
Cars / Cars and Bikes
Bristol Bullet Speedster: Calling Shotgun
Built to mark British car marque's Bristol's 70th anniversary, the Bullet lives up to its name with an impressive 370 bhp-producing V8 engine.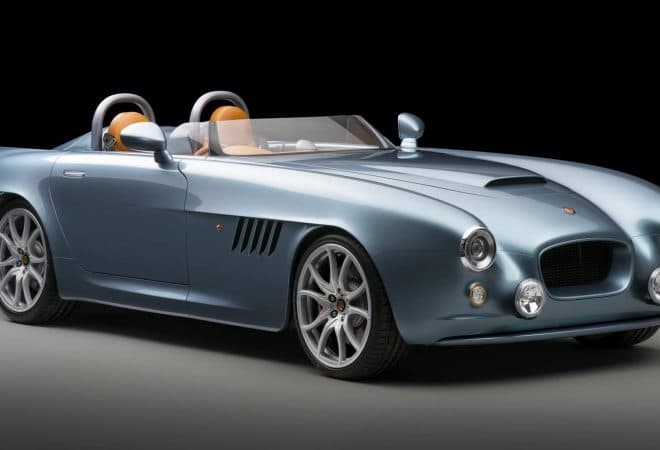 If your car has a name with the word "bullet" in it, it damn well better be fast, and the Bristol Bullet Speedster is exactly that. Launched in celebration of the British car marque's seven decades of brilliant car-making, the speedster might look like a classic, but has all the workings of a modern car.
Each of the Bullets – handmade in Chichester – takes its visual cues from the firm's longstanding history of airplane manufacturing with a conspicuously long bonnet and distinctive front grill. The traditional Bristol aluminum body has also made way for bespoke carbon fiber composites that are lighter and stronger (read: faster ride thanks to improved weight-to-power ratio). The next thing you'll notice is the cockpit's contrasting tan leather interior and dashboard, of which you can choose between quaint wooden paneling or sporty carbon fiber weaving. A multi-touch screen which links up to your smartphone via Bluetooth or WiFi will provide more efficient connectivity. Well, whatever the tech specifications, this car will undoubtedly turn heads.
However, as its name suggests, the focus of the Bristol Bullet Speedster is all about, well, speed. Bristol has endearingly nicknamed the V8 engine 'Hercules', but really, it is manufactured by BMW. The non-turbo 4.8-liter engine will take this zippy vehicle to 62mph in 3.8 seconds with the help of 370bhp. Take it to a drag strip, and you'll hit a top speed of 155mph. Bristol will produce electric and hybrid variations in the near future, so eco-loving hippies can also get in on a piece of this action.
"This unique speedster sets the tone for the future of Bristol Cars – with a focus on luxury, performance and elegance," says General Manager Julian Ramshaw. "The discovery of the prototype at the factory provided us with the perfect way to celebrate this incredible marque's 70th anniversary."
As the saying goes, it's all in the name.
This story is also available in Bahasa Indonesia. Read it here: Bristol Bullet Speedster: Secepat Shotgun
---